Here are some Frequently Asked Questions: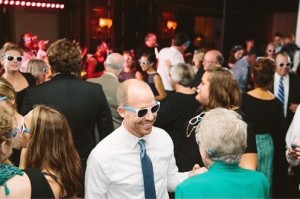 Q: Is Funk Syndicate a 'real' band or just a group of musicians brought together to perform at our wedding and how many people are in the band ?
A: We are a real band. We are proud to say that we are in our 15th year collectively and the same people show up to each performance. There are 8 performers and we employ a sound engineer to monitor and manage every aspect of the production.  Unlike some other groups, we prefer to keep the number of performers consistent to ensure a full sounding and authentic performance.  We list all of our members and their experience on our website so you know exactly who you are getting and the talents they bring.  We believe this provides an exceptional reception experience.
---
Q: Speaking of volume … are you loud? Are my older relatives going to be able to dance and enjoy some conversation?
A: We use digital technology and In-Ear Monitors. There are no loud amplifiers onstage which puts us light years ahead the rest of the bands. This give us total control to manage volume. Music volume is NEVER an issue!
---
Q: Once you load-in at the reception hall, how long does it take for setup?
A: Once we have the electricity amenities needed and know the perimeters of our playing area, we can be setup & ready within 3 hrs. It is one hour to  tear down. What we need to know from you is what time we have access to the reception area and what time we need finish sound check by before guests arrive. This gives us an opportunity to set volume levels the make this one of the best days of your life!
---
Q: Can you provide break music in between sets or play a Spotify or Apple Music playlist that we have made ourselves?
A: Yes!  We can also accommodate any special announcements, special dances or music requests. For instance, we have played numerous Italian and Jewish weddings where we were asked to play The Hora – Hava Nagila.  When you hire us, you get us for the day and this will include our DJ services, emcee duties, microphones for speakers and other announcements as needed.
---
Q: Are we able to request a song not on your song list?
A: Absolutely!  Let us know what you would like us to play and we can likely get it ready for you.  If you want something played from a recording (a specific artist version of a song for example), we can easily integrate that into your evening.
---
Q: You spoke about helping us customize the music. How do you do this?
A: We actually meet with you or your wedding planner to go over our song list in order to build the perfect sets for your night. During this process, we can agree on how long each set and break will be and what songs you would like to hear. We will also share our experience performing many weddings to offer help and advice to ensure you don't fall into some of the common pitfalls when planning your reception.  This customization is all factored into our rate.
---
Q: I am going to have a variety of age groups at my reception. Will there be something there for every one to dance to?
A: Funk Syndicate caters to a broad demographic of age groups. Your family and guests will be on their feet dancing no matter what age!  We cover hits from the 60's all the way to current day.
---
Q: What is method of payment?
A: We require a 50% deposit to hold the date. The balance due is the evening of the reception. We accept checks, cash, money orders, Venmo or PayPal. We do not accept credit cards.
---
Q: What if I have planned my reception for an outside venue and it rains?
A: Unfortunately, Mother Nature can alter any outdoor plans so we suggest that  an alternate and more sheltered plan be in the works. When in doubt make sure that the venue is covered to avoid any accidents that can occur when you mix electricity, rain or severe weather.  Funk Syndicate will need a safe, dry and appropriately sized space in order to bring you a high quality and memorable performance.
---
Q: This all sounds great! How do we get started?
A: First thing is to get familiar with our repertoire in order to get an idea of what songs you would like for us to perform. You can go to www.kcfunk.com and click on the Song List link.  If needed, we can provide you with a professional promo kit that gives you everything you need to know about the band. This also includes some recent live recordings of what we sound like. I would also suggest that you see and hear the band live to know exactly what you are going to get. If you want more information, you can call our business line at 913-269-8537.
---
We will be proud to be a part of your special day and we guarantee that you and your  guests will be talking about Funk Syndicate for years to come. In fact, many of our married couples and their families continue to come see us for months and years after.
Funk Syndicate is your 'perfect wedding entertainment' solution!