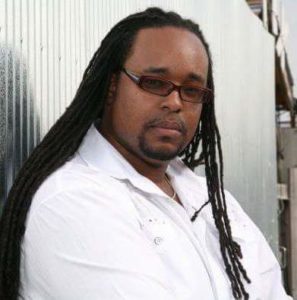 Cardon Bolen is the newest member of Funk Syndicate. He brings an impressive vocal range and power honed in church, singing in the choir throughout elementary and middle school. Cardon began entering singing competitions with the choir in high school, winning him accolades for his solo performances. In college, he lent his vocal talents to Jazz, Concert and Vocal Ensemble choirs.
He is a multi-talented musician. By age 5 he was playing drums at his church, and at the urging of his grandmother, began piano lessons when he was 13. He picked up tenor saxophone in high school and quickly joined his high school marching band.
Cardon has provided background vocals to local and national acts such as Tech 9, Sean Tyler, Lynda Randall and Krizz Kaliko, to name a few.
In addition to co-fronting Funk Syndicate, Cardon currently sings with Isaac Cates & Ordained, Delynia Janelle & KC's Finest, and Michael Portley & Students of David. He is Choir Director, praise and worship singer and plays drums at Christian Fellowship Baptist Church in Kansas City. His musical influences include Classical, Choral, Jazz, Gospel, R&B, Funk, and Rock and dedicates his time to writing, composing and arranging.